The last NICE guidelines for low back pain, which were indeed quite nice to osteopaths (along with acupuncturists and chiropractors), came into action around 2009/10. Now we have a new set of guidelines, which have just been published.
So what do the guidelines say?
Find the official guidelines here.  And a good roundup from the Chartered Society of Physiotherapists here.  But my own rough guide is this:
Interventions you can forget about…
OUT: belts, corsets, orthotics, rocking shoes
OUT:  acupuncture (yes, really)
OUT:  traction
OUT:  ultrasound, PENS, TENS, interferential
OUT:   paracetamol, strong opioids, antidepressants such as SSRIs and tricyclic antidepressants, anticonvulsants
OUT:  spinal injections
OUT:  spinal fusion (in most cases), disc replacement
OUT:  imaging (except sometimes in a specialist setting)
And the things you should be doing (or "considering", to use NICE-speak):
IN:  Using a tool such as the STarT Back Tool to risk assess LBP patients
IN:  Exercise – mindbody/aerobic/strengthening/relaxation, whatever type and combination suits the individual
IN:  NSAIDS (aspirin and ibuprofen), in the lowest dose for the shortest time possible, but if you cannot tolerate these you can have paracetamol alongside weak opioids
IN:  Manual therapy IS still recommended and is described as "manipulation, mobilisation or soft tissue techniques (for example, massage)" but is NOT to be used by itself; it must be used alongside exercise
IN:  Combined physical and psychological approach (preferably in a group and of a cognitive beahvioural type) for persistent pain – N.B. do not use a psychological approach ALONE
IN:  Getting people back to work or back to normal daily activities
IN:  radiofrequency denervation in patients (for moderate to severe pain not improving)
IN:  epidural steroid injections for acute sciatica
IN: spinal decompression surgery for sciatica not responding to other approaches
I looked everywhere for a Nice biscuit to use as a graphic, but I couldn't find any so it's a signpost
What's different since last time?
Not mentioning therapists by name – it's all about interventions and not named professions
Sciatica is newly included – they have called it sciatica rather than 'radiculopathy', because people know what it means, but they do mean leg pain secondary to lumbosacral nerve root pathology, not just any generic leg pain.  They're not covering cauda equina or progressive nerve deficits here because they are not non-specific low back pain and we should all know when to refer these.
Acute and persistent pain are included – the guidelines used to be for pain which had lasted between 6 weeks and 12 months, which in practice did not apply to quite a lot of my patients.  Now they apply from first presentation onwards for people 16 years and over.
What are people saying?
The osteopathic perspective is well explained in 2 parts  by Deborah Smith here and here.  Dawn Carnes has also produced a good brief summary for NCOR.
There has been  a bit of a spat on twitter, over specific wording on infographics regarding manual therapy (see below for a widely circulated infographic by Adam Meakins and a critical response), as there is some ambiguity over how strongly the guidelines are actually recommending hands-on treatment.  This topic really gets physios going but I get the impression that osteopaths have considerably more love for hands-on treatment than the physio profession as a whole, and it's not (yet) a very controversial issue for us.  However if the issue of fact distortion and spin in a post-truth world and its effect on the NICE Guidelines as disseminated via social media interests you, read this interesting blog.
A clear and well written comment by Karen Middleton of the CSP is worth reading to get the gist of how these guidelines might feel in practice, rather than a list of Do's and Don'ts.  She sums up the shift in attitudes to LBP treatment:  "The guidance calls for a person-centred approach and puts individually-tailored exercise as a key intervention.
This blog gives a good medicolegal perspective to the oft-asked question of how binding the guidelines actually are.  Martin Docherty the "Medicolegal PT"says guidelines such as these "inform our clinical practice but do not dictate it".  His comments are aimed at physios, but might be applicable to us too, and he warns
If you do depart from the guidelines, you need "not only to be able to point to a body of physiotherapists who are willing to support that departure, but be similarly capable of providing a logical explanation of why their chosen treatment pathway was justified".
Click here to see current research into why osteopaths might not follow guidelines
Acupuncturists, who have been the chief group left out in the cold, have responded with a short statement of their disbelief from the AACP (physios who do acupuncture) which is urging people to contact their MPs.
What effect might these guidelines have on our practice?
These guidelines might not directly, immediately, hugely impact  individual patients, but surely there will be a trickle-down effect as the years go by, and colleges have to offer more psychosocial and exercise prescription training.  The more interesting question now is wondering where the next guidelines will go.  Where are we heading?  These guidelines herald a significant shift in favour of the personalized approach osteopaths have been advocating (in principle) for years, albeit with the manual therapy aspect less in the foreground.  They are a validation of the drug-free, gimmick-free,  appropriately tailored treatment provided by osteopaths.  Our treatment at best includes manual therapy, exercise and  lifestyle changes, along with the respect, empathy and space provided by the therapeutic relationship, which so often allows the patient to understand their body better, and to gain the confidence to make those changes and self-manage their condition.  I do think, though, that our palpation and technical skills might be our USP, and it will be interesting to see where the downgrading of manual therapy  will take the various professions over the next few years.
And here is a fantastic or possibly biassed infographic (depending on your attitude towards manual therapy) by the impactful "sports physio"Adam Meakins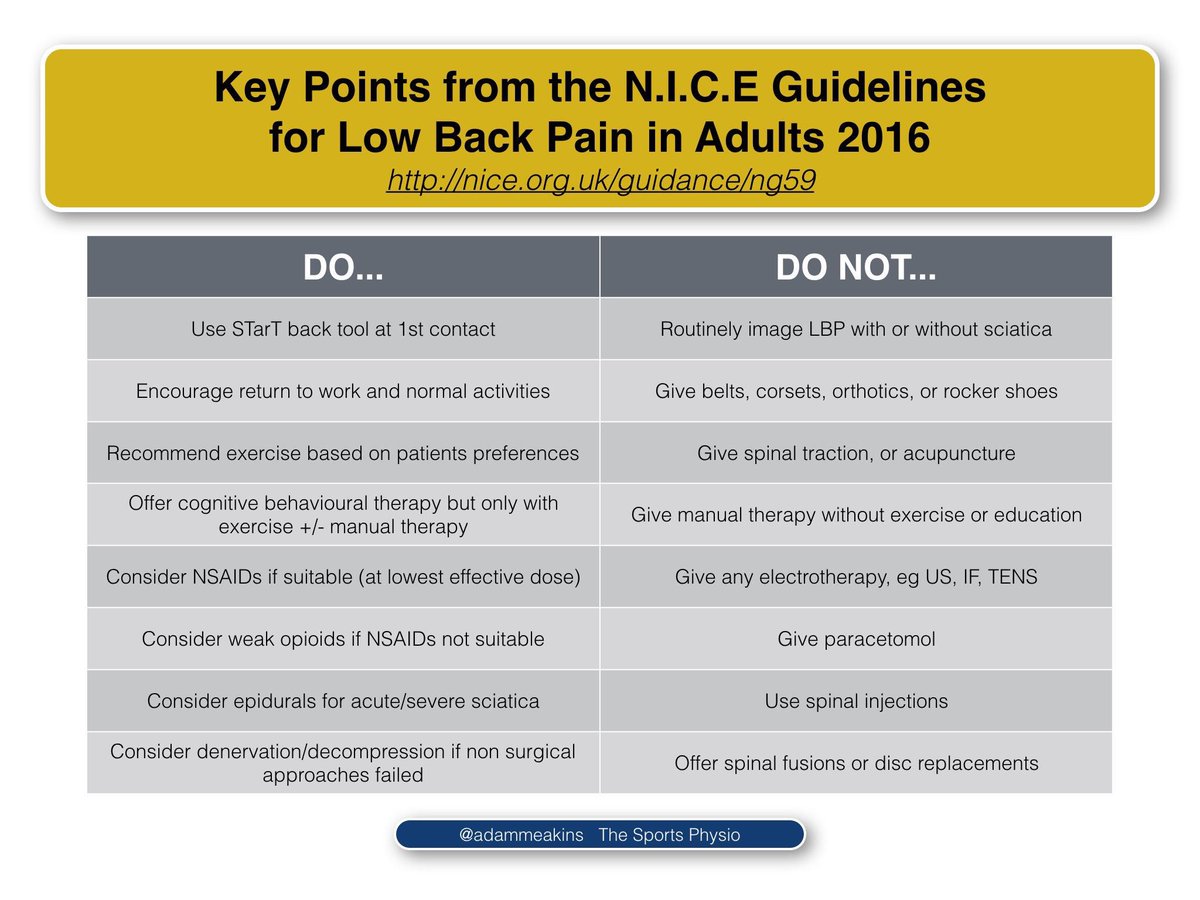 …and the other side of the argument, shown in a tweet by Alan Taylor, who accused Meakins of spinning the recommendations to suit personal preference.  The controversy seemed largely to hinge on the fact he said "Do not use manual therapy without exercise or education" as opposed to something a bit more positive like "Do use manual therapy alongside exercise or education".